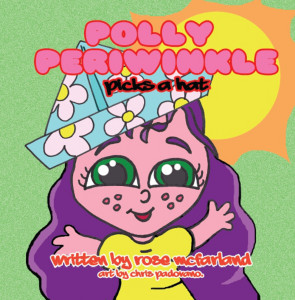 Only $2.99
Polly Periwinkle Picks a Hat
is a fun rhyming book written by
Rose McFarland
In this uplifting story our leading lady, Polly, is really into fashion and enjoys checking out all the hats that the kids are wearing at the playground. From her birds eye view, way up the top of a tree, she tries to decide which hat is the best.
This beautifully illustrated, 16 page children's book is the first in a series featuring Polly Periwinkle. Join her on her great adventure of picking which hat is the best. Have fun playing cool guessing games and enjoy a neat project at the end of the book.
Also, don't forget to check out these free coloring pages from Polly's story which you can download and make your own Here.
For any aspiring artists out there who have turned their free coloring pages into works of art you can email a copy to trs@therhymingshack.com if you want it posted to a "Special Features" area for artists to show off their work!
Take a sneak peek below to have a look into Polly's world.
Meet Polly's friends and help her pick which one of
these awesome hats the best.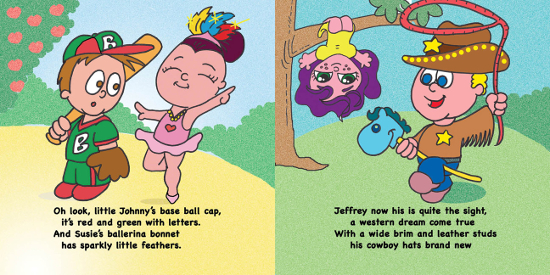 If you would prefer Polly Periwinkle Picks a Hat in an eBook version, I have provided the links below to both a Kindle and Nook format.
Kindle Format:  Polly Periwinkle Picks a Hat at Amazon
Nook Format:  Polly Periwinkle Picks a Hat at Barnes and Noble