Thank you for purchasing Maury the Martian!
Click on the picture of Maury to get a copy of your book now. To save it to your computer follow the instructions below.
While viewing the book in your internet browser go to:
File
Save Page As
Browse to the location you want to save the file
"Save as type" will be – Adobe Acrobat Document
Click Save
Once again, thank you, and we hope you enjoy Maury the Martian!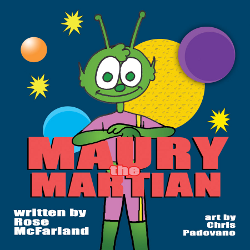 Also for an added treat, don't forget to grab your free coloring page HERE. I'm sure this coloring page will look great when it is all filled in with loads of color and imagination! Please email trs@therhymingshack.com with your finished picture if you want it posted on the site in a "Special features" area for the artists to show off their work.